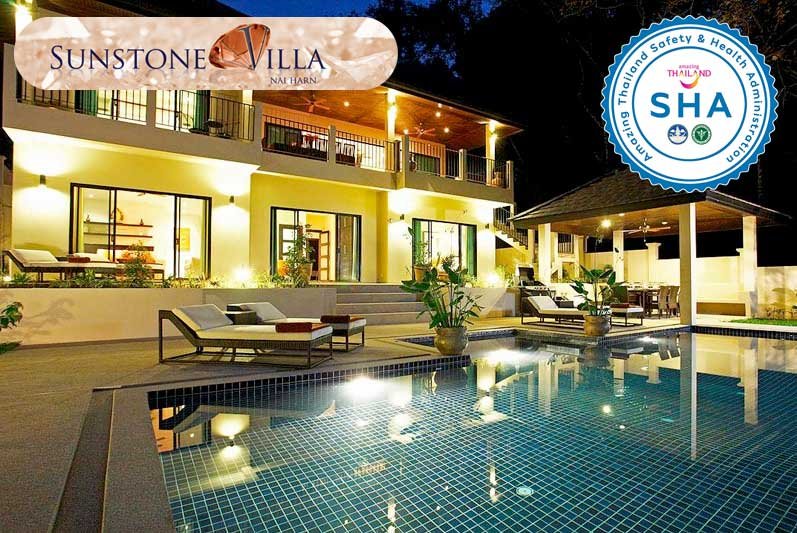 Price US$ from
800
/night
Persons per room: 2-3
Bedrooms 8
Sleeps 19
Bathrooms 7
Half Bathrooms (toilet & sink) 0
Sofa Bed 1
Extra Beds (sofa/foldaway) 1
8 Bedrooms sleeping up to 19 villa rental guests



SHA Approval certificate number B3455
This majestic two story villa has 6 bedrooms, with the availability of a seventh, and can comfortably accommodate 14 people. All rooms are fitted with remote control air conditioning units and ceiling fans.
The Master Bedroom Suite: This luxurious room, located on the upper level, has a king-size four-poster bed, walk-in wardrobe and a large en-suite bathroom with a spacious walk-in shower and a large oval bath.
The remaining rooms are on the lower level.
Bedroom 2: Has a king-size four-poster bed, built-in wardrobes and a large en-suite bathroom with walk-in shower. Sliding double doors open out directly onto the sun terrace with easy access to the swimming pool.
Bedroom 3: Has a king-size bed, en-suite bathroom and sliding doors leading directly to the swimming pool area.
Bedroom 4: En-suite bathroom with full size twin beds and 42" flat screen TV and DVD player.
Bedroom 5 has a king-size bed and Bedroom 6, single bunk beds. Both these rooms share a large bathroom and are conveniently situated in a semi self-contained area of the main villa.
Bedroom 7: Has a queen-size bed and en-suite bathroom and is suitable for a couple or to accommodate a maid or a nanny.
The ground floor area has been specifically designed to create a separate area for bedrooms 5, 6 & 7. The large secondary living room on this side of the villa boasts a pool table, a 42" flat screen television, with DVD player, and cable TV.
The main living room on the upper level has a huge comfy leather sofa, a 50" flat screen TV, DVD player (with a wide selection of movies), cable TV and a Bluetooth music system. Leading off from the living room is the vast under-cover balcony with a lounge area and an elegant 12-seater dining table.
The Western-style kitchen is fully-fitted and equipped with all the modern appliances and utensils needed - and to the side is a very comfortable and quaint Thai sitting area.
For those who need some quiet time to work or study, there is a peaceful office/study with a desk and laptop computer. Sunstone Villa also provides a landline telephone and wireless internet access.
Situated in a secluded corner of 'The Villas' development this exquisite villa is perfect for those seeking a spacious interior and a peaceful outdoor environment. The layout of the residence has been carefully designed to best accommodate large groups or families.
The tasteful orange and gold colouring throughout this grand 7 bedroom villa, blend perfectly with the natural colours of the surrounding landscaped garden. The large sun terrace, with sun beds and seating, surround the 10x5m infinity edge swimming pool with integral Jacuzzi. At one end of the pool is the large sala with fitted seating, an 8-seater dining table, a fridge and a gas barbeque – perfect for evening entertaining.
Sunstone Villa has been meticulously decorated throughout with solid teak beds, rich wooden furniture, stylish poly rattan outdoor furniture and a huge comfy leather sofa. A great deal of attention has been paid in the selection of Thai artwork, ornaments and silks that adorn the villa.


SHA Approval certificate number B3455
The Amazing Thailand Safety and Health Administration (SHA) project is a result of cooperation between the Ministry of Tourism and Sports, the Tourism Authority of Thailand (TAT), the Ministry of Public Health, the Department of Disease Control, the Department of Health and the Department of Health Service Support, as well as government and private sector organizations involved in the tourism industry. Together they aim to make tourism a part of Thailand's disease prevention measures and ensure that both Thai and foreign tourists have a positive experience.
They are happy and confident in the sanitation and safety standards of our accommodation and staff and we are now SHA approved. This has been achieved by combining public health safety measures and our high-quality service standards to reduce the risk and prevent the spread of COVID-19.
Various boards, federations, and associations in the tourism industry are in charge of inspecting the checklist and certifying the result of improving a workplace according to the SHA standards.
TAT has awarded the Villas Phuket SHA certificates, and assigned a serial number - B3455 which covers each of our 20 luxury holiday villas here in Nai Harn and Rawai, Phuket. We are recoded in the official database amongst the list of other hotels and holiday villas who have been approved by the SHA.
Establishments will be randomly inspected by the committee and we here at The Villas will pass these inspections each and every time!
Sunstone Villa sits in a secluded corner of 'The Villas' private development and is just 1 kilometre away from arguably Phuket's finest beach – Nai Harn. The beach is easily reached by a comfortable 15 minute walk or a 2 minute drive. Within a short distance of the villa there are a good selection of shops, restaurants, bars and many tourist activities and attractions.
Time zone: GMT + 7 hours Language: Thai Voltage: 220/240 volt
International Dialing code (into Phuket): +66 International Dialing code (from Phuket): 001
Currency Information:
The official currency is the Thai Baht (THB).
Coins: 1 THB, 2 THB, 5 THB, 10 THB Notes: 20 THB, 50 THB, 100 THB, 500 THB, 1,000 THB
Exchange and Banking:
t is worth bearing in mind that although major credit cards and travelers cheques will be accepted in large outlets, selected restaurants and some tour companies in Phuket, many places will only accept cash. Therefore we recommend exchanging travelers cheques in banks or authorised exchange booths for Thai Baht and using cash for everyday purchases. ATMs are widespread across the island so you're never too far away from an access point. If you do wish to exchange cash we advise only to use reputable banks and hotels and limit the cash you carry on you to the amount needed for the day. Please note that coins cannot be converted on departure. It is also recommended that you save the receipts from your currency exchange transactions as they may be needed if you intend to reconvert Thai Baht at the end of your stay.
All our villas are privately owned so we regret we do not have the facilities to accept credit cards.
Tipping advice:
High-end restaurants and hotels usually include a 10-15% service charge, so although it is not necessary to leave an additional tip (there is some controversy whether this amount actually goes to the waiting staff) it is left to your discretion. The majority of smaller restaurants do not include service on the bill and staff would be pleased to receive a 10% tip if you feel the service was satisfactory.
It is the custom to tip staff such as chefs, drivers and housekeepers. Any gratuity will be very much appreciated, but completely up to you and should be given directly to the person you intend it for.
Arrival and Departure formalities:
All Travel documents are the responsibility of guests and should be thoroughly checked before leaving for Thailand. All guests will need a valid passport and the expiry date should be at least 6 months beyond the completion of your trip. Your passport should contain enough blank pages for entry and exit stamps issued when passing through immigration. Visa requirements differ from country to country and are subject to change – so you must ensure you have the correct documentation. For stays in Thailand of a maximum of 30 days – visas are issued on arrival for tourists from most countries. However longer stays will normally require a tourist visa obtained from a Thai Embassy in your country of origin or departure point. It is strongly advised that you check specific visa requirements particular to your country of residence well in advance of travelling
Once your Nai Harn accommodation and arrival details in Phuket have been confirmed, we will advise you on the airport transfer procedure and transport to your residence.

Rental Prices
The Villas welcomes guests to check in and out on any day of the week, there are no restrictions on change over days. We invite guests to stay for a minimum of 3 nights in Low Season and 7 nights in Peak Season, but shorter rental periods will be considered upon request.
Sunstone Villa - Season Prices Overview - per night ($USD)
| Season Prices | | |
| --- | --- | --- |
| LOW | USD $ 800 | 1 May - 31 October |
| HIGH | USD $ 1,200 | 1 November - 30 April |
| PEAK | USD $ 1,600 | 15 December - 15 January (Christmas & New Year) |
SPECIAL RATES AVAILABLE FROM 600 USD per night (subject to dates, availability and certain conditions applying)

We can accept THB, GBP, HKD, SGD, AUD at current FX rate, as well as payment through paypal, if this is a more convenient method of payment



Specifications
Land size: 800 sqm
Floor space: 400 sqm
In/Out Living Area: 550 sqm
Swimming Pool: 10 x 5 m
Style: Contemporary
All dimensions approximate

click image to enlarge floor plans or download pdf below

Villa Directions
Facilities
Included in cost
Daily housekeeper 8:30am – 5pm
Bed Linen
Bathroom towels
Pool towels
Air conditioned bedrooms
Air conditioned living area
Ceiling fans in all rooms
Infinity-edge swimming pool
Integral pool Jacuzzi
Sunbeds
Outside sala with refridgerator
Outside dining table for 10
Outdoor gas BBQ
Large sun terrace
Open views
Large living room
Second living room
Inside dining table for 10
Fitted kitchen
1 four-poster bed
1 king-size bed
2 queen-size beds
2 single beds
4bathrooms
Hair dryer(s)
Games room
Pool table
TV in living room
TV in second living room
Satellite TV (50+ channels)
DVD players
Home Theatre surround sound
Selection of DVDs and CDs
Bluetooth music system
Wireless internet
Incoming phone line
Baby cot
Baby high chair
Fridge
Freezer
Microwave
Dishwasher
Washing machine
Tumble dryer
Single carport
Safe
24 hour helpline
Follow Us: